Our Havanese Journey
I met my first Havanese when my breed mentors (Bearded Collies), and long time friends,
acquired their first Havanese in 2015....
He was so outgoing, got on well with every person and dog that he met, and I loved the 'look' of
him, such an attractive little dog!

The Havanese breed is a sturdy, hardy member of the toy group.
They are generally fun loving, clown like in demeanour,
and they get on fabulously with other animals...
they have a joyful nature, are always up for a game and they have very similar
personalities as Beardies,
it wasn't surprising that I quickly fell in love with the breed.
Over the next few years, I spent considerable time researching the breed
and learning everything I could about them.
I devoured every piece of information I could find on the internet.....
which further confirmed that this was a breed that could fit into our home with ease.

In 2021, I decided it was time to seriously start looking for our first Havanese.
Fast forward to 2022, and I regularly drooled over some stunning examples of the breed in the USA....
Bono (winner of Westminster Toy Group) really peaked my interest and I vowed that 'one day soon' a Havanese would join us.

By chance, I noticed a young minor puppy Havanese being shown locally.
I loved his carriage and his typical lively, elastic gait.
Quick thinking by one of my best friends, and with the generosity of
his breeder, we were lucky enough to take that puppy home......

'AU CH KARYME FLYING IN A BLUE DREAM'
Ralph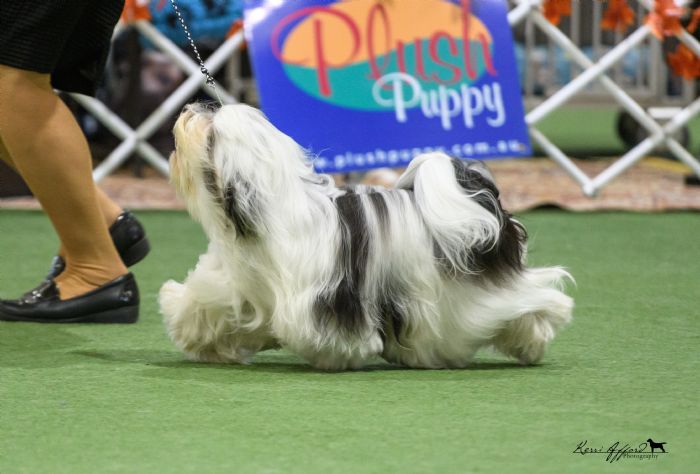 Our first Havanese and WOW what an introduction to the breed. He has been a wonderful addition to our
home and our show team and I am indebted to his breeder and co-owner, Gail Ransom,
for allowing Ralph to live with us and be part of our family.
Of course, Havs really are like peanuts and you can't just stop at one!
A few months later, I saw an advert on FB for a female puppy. The first time we saw her she was a little
nervous, but after I stacked her up and saw her shape, I knew she was coming home with us!

'AU CH HAVABELLA ZIGZAG TO EDINGLEN'
Mabel


Some gentle handling and lots of socialisation has seen Mabel blossom into a fabulous show girl. We love
her quirky personality and she has been extremely successful from the puppy class.
Our journey continues and we have added two more girls to our family, we are so excited for the future!
Contact Details
Michele Lincoln & Julie Lyons
Yass, NSW, Australia
Phone : 0438 067 697 or 0407 961 777
Email :
[email protected]